10 great Collector's Editions that deserve a place on your shelf
When companies add the extra incentive of limited editions onto already appealing video games, that's asking for a lot more attention and sometimes being just too hard to resist. Here we'll be discussing my favourite editions and for the sake of a shorter title, these will be any special edition, be it collectors, limited or launch editions. Dive in with me in what I think many of us can agree is the most exciting part of seeing other people's game collections, and since this list is based on my own opinion (and *mostly* excluding our quite lovely collector's editions in the pursuit of fairness), do share what your favourites are in the comments below.
Tokyo Xanadu eX+ Limited Edition
Falcom have a lot of amazing collectors editions, and I mean a lot. From the majority being under their Ys franchise, the one that stands out to me is the standalone title of Tokyo Xanadu ex+, the limited edition on the PS4. Most definitely helped by packing a figure not often seen with our Japanese video games with anime aesthetics, the package is a big one because of the size of him. Alongside it are a nicely themed deck of cards, soundtrack with 10 tracks including the full opening theme, and 60 page art book. It definitely doesn't sound like a lot, but with an impressive and detailed figure in a glorious collectors box, easily being one of my favourites in design, it's more than enough for my greedy eyes to keep gawking at.
This one is unfortunately sold out but has appeared a couple of times in the past of eBay, and is still listed to be imported on Amazon.
Amnesia Memories Limited Edition
When we talk about otome games, it can be a punishing subject, from side characters we wish were love interests, to what little we receive of physical copies of its titles in the West. While Hakuoki has obtained a varying amount of not only physical copies but also limited editions, Amnesia suffers from not even having a physical disc. Even the more popular otome titles such as Code Realize and Collar x Malice (more on this later) have gotten limited editions with standard copies packed in it. However what we do still receive in the Limited Edition of Amnesia makes up for it, being my favourite otome edition us Europeans have received. This may be due to solely the wonderful pillow case, but can you blame me? Just look at best boy Kent being all cute in the background, bless! Hanamura Mai's character designs are stunning even in this older title showing her talent for the first time officially in the West, making the sheer act of holding her works in a glossy artbook all the more charming. And on top of this, you get the original soundtrack and 5 character coasters. Nice!
You can still grab the Steam key edition of it here on iffy's store, or for the cheaper option, the package without the Steam key here.
Summon Night 6 Lost Borders Wonderful Edition
This one was definitely making the list not only for its steep retail price but for its rarity being also notable. As the most impressive edition to come about for the Vita (in my humble opinion of course), the hefty package comes packed with a lovely set of goodies. The exclusive plushie which could be one out of three is a surprise on opening the package, and then comes the rest of the even more impressive items. A game case holding not only the cartridge but also a manual (gasp!) and multi-sided coversheet, full soundtrack, a huge 21 x 30 poster, 4 drink coasters and a gigantic 200 paged hardback artbook with a dust cover are a delight to behold and cherish.
This one is unfortunately sold out but does have a few listing that come up on eBay around the same retail price.
Fire Emblem Fates Special Edition
I find Nintendo's habit of limiting their stock extremely problematic due to the ongoing issues plaguing limited runs of their products, most exemplified by the Special Edition of Fire Emblem Fates. With a far too big of an audience and want to obtain this product, Nintendo had produced such a small amount of this edition that only fueled scalpers to stock up on the item to overprice them as soon as it released. This is truly a shame and I feel for many Fire Emblem fans out there as despite the very mediocre title overall, it's the only way to have the three games of Fire Emblem Fates on one cartridge, making it originally a sweet deal. This had the added bonus of including a wonderfully detailed artbook, two sided poster, and the piece de resistance; the steelbook. This is especially lovely as the only other steelbooks that exist for the system are Mario, Pokemon, Zelda and Adventure Time.
This one has been out of stock since its release, but keep an eye out on second hand sites such as eBay but avoid scalpers.
Stella Glow Launch Edition
Considering I have a love for JRPGs, I don't believe I have mentioned how much I adore the developer Imageepoch. With a lifespan of only 10 years, they were the bringers of fantastic PSP gems from Fate/Extra to Criminal Girls, and the DS with Sands of Destruction, 7th Dragon and the game that got me into this hobby in the first place; Luminous Arc. Come to the 3DS and their last video game Stella Glow is a gorgeous role-playing game (need I say more after seeing its launch edition?). As the only collectors edition under their name, this is a very special piece to me. In the stunning package is a cute bubu charm, a soundtrack sleeve with the 5 "Song Magic" vocal tracks, and a beautiful illustration of Hilda on a cloth poster. It may be a lot less impressive than the other editions I've listed, but it holds a special place in my heart as the one edition that shows off Imageepoch.
Unfortunately sold out on Nintendo's store, but keep your eye out on eBay but avoid scalpers.
Collar x Malice Unlimited Limited Edition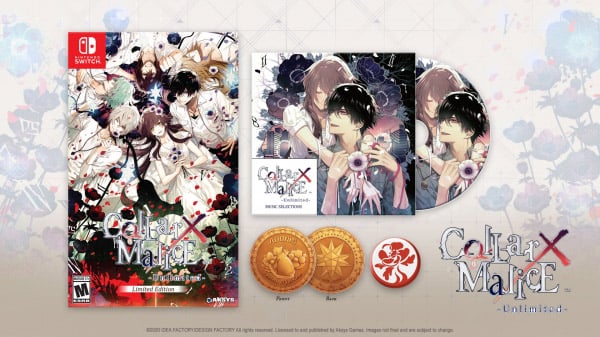 As I mentioned with Amnesia, the physical releases we have of otome titles are very little and far between, making the few collectors and limited editions that we have received a god send. This is exactly the reason why Collar x Malice's Unlimited Limited (what a tongue twist) Edition is such a pleasant surprise. Collar x Malice Unlimited Edition may be the least impressive of my selections by a mile, but for the fact that it's my favourite otome title I am extremely thankful that they released it as a limited edition. The package comes with a very nicely detailed pin, a two disc soundtrack in a jewel case containing 30 songs from both the main game and fandisc, and best of all, an "Adonis" coin, the single piece I think is perfect for any fan of Collar x Malice to have. As someone who missed out on the Summer of Mystery campaign despite purchasing all three games to obtain the exclusive pin set Aksys was offering because it was America only I'm more than happy we managed to receive this. As for it being on my list and considering it went out of stock very quickly, I can assume my fellow otome gamers agree with me on its placement being here.
Collar x Malice Unlimited Limited Edition has been sold out on Aksys' European store and PlayAsia, so keep your eyes out for any listings of it on eBay for a reasonable price.
Punch Line Cheermancy Edition
Funnily enough I was thrilled to become a part of Rice Digital for they bring us anime lovers a plethora of exclusive editions. From Song of Memories to Steins;Gate, we've had a lot amazing editions thanks to Rice Digital's efforts. In what is my favourite one is the bizarre collection of silly odd bits in Punch Line, true representative pieces that show exactly what Punch Line is. This is what a collector's edition is all about! The collector's box is thick and has a humorous design on the cover, with its contents being just as on the nose as indicators of how eccentric this title is. There is a stunning 128 page artbook, Chiranosuke's cat collar, Japanese Punch Line logo keychain, official soundtrack, and even a full sized pigeon mask!
While out of stock on our store, it has frequently been up for buying and bidding on eBay.
No Straight Roads Collector's Edition
As the most recent Collector's Edition on my list, it had been a while since I was so excited for a video game to release. This did not help me stay patient when I caught glimpse of its stunning collector's edition! The package is a heavy one, no surprise with what comes included. No Straight Roads is all about rock and EDM music, so of course the indie developer metronomik included not only the full soundtrack for download by email, but includes a physical soundtrack featuring 10 of its best tracks fitting the theme of vinyl city's music being on a vinyl! And better yet, it comes with NSR themed drumsticks, the same equipment the cooler half of the protagonist duo Zuke carries around and battles with. But what is the best piece however is its gorgeous, premium artbook with 64 pages filled with glossy concept art and official artwork that takes your breath away.
You can still buy this edition on GAME's store here or Amazon!
Battle Chef Brigade Collector's Edition
As a company who thankfully provides physical copies of Vita titles and indie games that you wouldn't even think would ever get a physical release, they are notoriously hard to buy at a reasonable price, or even see appearing on second hand sites. But if you do manage to have the extra cash to put into a collectors edition, it's worth it when the company puts a great amount of energy and care into the product to make it feel authentic and fitting to the game. Just look at that full size apron! Battle Chef Brigade is a stylish mash up of different genres, and to see so much attention going into representing its unique art on the large poster and steelbook is a glorious sight to behold. And of course, we have the original soundtrack in the package too!
While sold out on Limited Run's store, there are frequent listings of the item for (sometimes) reasonable prices on eBay.
Celeste Collector's Edition
For any gamer who owns an indie collectors edition, it's often the product most will point to as to explain why purchasing the collectors edition of a video game is worthwhile. So what better one to close off my list than Celeste's? For a cheaper price, the PC Collector's Edition does not include a standard copy of the title but still comes with the all important steelbook. Also included is a fitting soundtrack in the form of a cassette tape, and even a recipe card for the game's strawberry pie, a strawberry plush, 16 x 20 mountain poster, patch, postcard, art print, and full digital soundtrack. Since the production of the just as stunning Collector's Edition of Undertale, Fangamer have provided multiple stunning special editions that are the most deserving of its price tag (in my humble opinion!), what with Hollow Knight and of course, Celeste.
Celeste is available for importing on Fangamer's store, but to avoid additional import fees, this edition of Celeste is the most frequent of these editions to be put up for sale/bidding on eBay.
Latest posts by Lilia Hellal
(see all)