3 beautiful visual novels to treat your eyes with
Who doesn't love a good visual novel with nice illustrations? Here I will suggest three titles worth looking into just due to their exquisite art, and if you like what you see, I will be mentioning other works of the artists too. Support their gorgeous efforts by buying their titles on Steam!
Flowers
When someone recommends the visual novel series Flowers, one reason to experience it is to feast your eyes on its glorious artwork. Provided by none of than Innocent Grey's Aoki Fumio, artist and character designer of the Kara no Shoujo series, Cartagra and Caucasus, his character designs are always recognizable, aiding the company's overall impressive standing in the visual novel scene.
However no matter how gorgeous Kara no Shoujo's Kuchiki Touko is in particular, no other title from the company looks as stunning as the Flowers series. This is understandable considering the company's staple of darker visual novels often concerning death, making Flowers not just a breath of fresh air from the usual Innocent Grey formula, but strikingly unique even outside of their own products. The series was inspired by Maria watches over us, popularizing the Yuri all-girls setting but with a side of mystery Innocent Grey are best known for with wonderful character blossoming development to go with the dramatic moments.
The series consist of four volumes, each themed after a season. The freshness does not stop there, with character sprites and CGs looking of the highest quality and being absolutely breathtaking, filled with soft yet vibrant detail. Backgrounds are polished and made to look light and heavenly with the soft colours and style unique to the title. Flowers is also equipped with a brilliantly engaging and human story, and alongside the remarkably splendid artwork, you will not put a step wrong in experiencing this Yuri title.
The Flowers series is available on Steam, starting off with -le volume sur printemps-.
Hoshizora no Memoria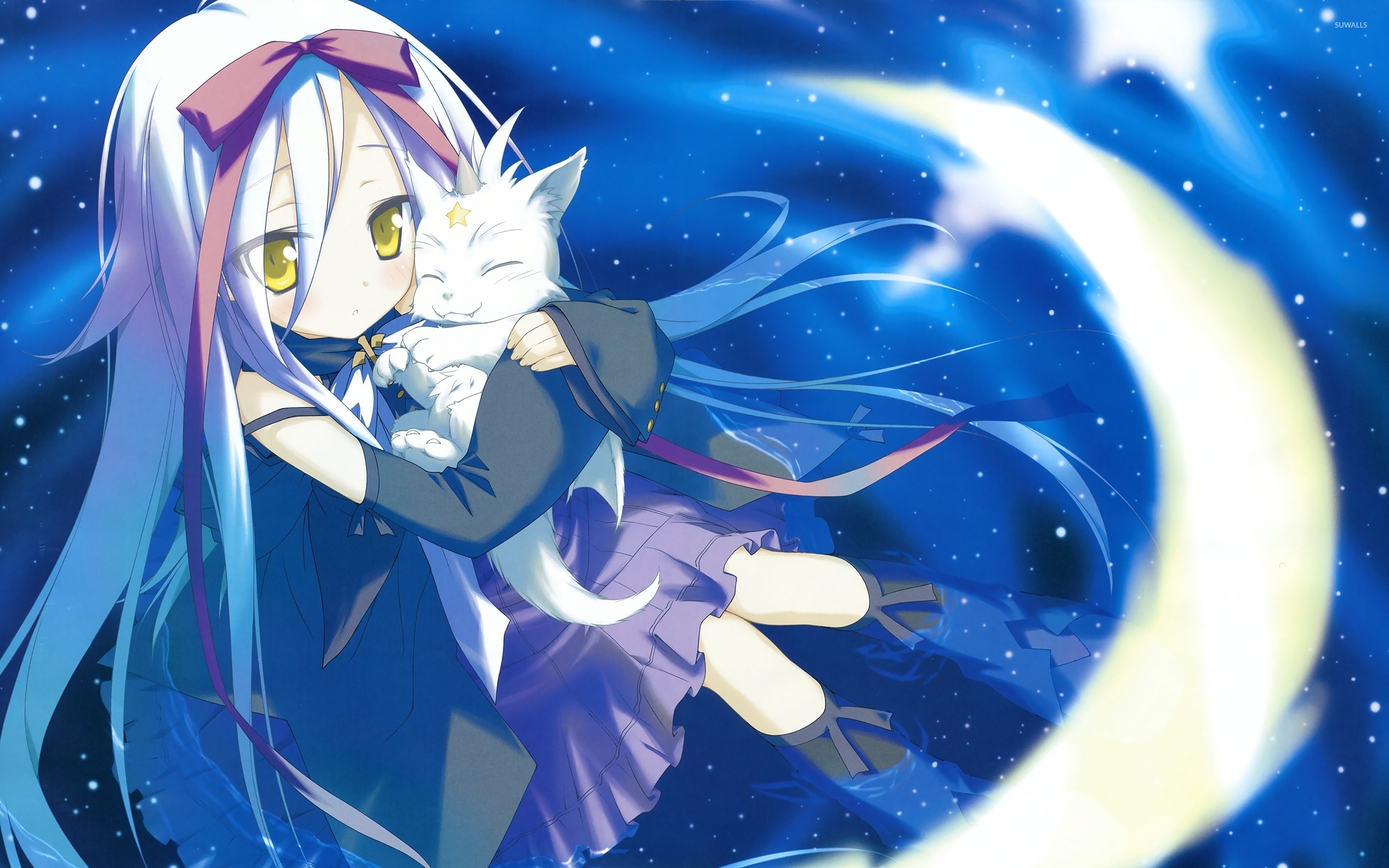 When we talk about a quintessential visual novel, Hoshizora no Memoria -wish upon a shooting star- is the first one that comes to mind. It's just so… anime. No other better word for it! The character designs are extremely memorable, with an overall art style being vibrant and colourful. This is gorgeously juxtaposed with the many darker CGs depicting plenty of stargazing scenes throughout its 7 routes.
Its artist is Shida Kazuhirois who is affiliated with Favorite, the company behind the title that is unfortunately the only officially localised game of theirs. Irotoridori no Sekai does have a localisation in the works by Sol Press, with a 100% confirmation of the translation and editing, now in the programming phase. So before this drops be sure to give Hoshizora no Memoria a go so you know why you should look forward to its release!
It's a fantastic visual novel all round, from its likable protagonist, charismatic girls, and an engaging story that gets deeper with each route play-through. The feels when playing through the true ending is well worth the 30 hours to get to! Turns out Hoshizora no Memoria is beautiful on the outside and inside.
Add Hoshizora no Memoria to your wishlist now on Steam.
Psychedelica of the Ashen Hawk
If someone were to ask me what my favourite artwork in an otome is, without a doubt it would be the sequel to Psychedelica of the Black Butterfly. Psychedelica of the Ashen Hawk was originally available on the Vita only, as part of Aksys' Summer of Mystery campaign, releasing the two titles alongside 7'scarlet. Despite both titles having the same artist, Satoru's work looks the most exquisite in the winter setting of the sequel, with her coloration of darker tones really popping here.
From one of the earliest otome titles of Tokimeki Memorial Girl's Side, to the more recent release of Cafe Enchante, no other otome has stood out as much as the Psychedelica series when it comes to localised otomes. The character designs are unique, fitted with meticulously detailed outfits, and my favourite attention to detail with the implementation of the unusual coloration and shading, especially in the characters' hair.
However, Yuiga Satoru's credentials begins and ends with the two titles in the Psychedelia series when it comes to her works in video games. Speculation has arose that the situation of Satoru's tracing allegations towards the well-known artist Hanamura Mei, character designer of Collar x Malice and Amnesia has made Satoru unable to continue working for IF/Otomate, even being unlisted from the company's collaborations.
Considering Satoru's talents this is already an awful time for the designer, with the otome market getting a hit too with little to no possibility of another title in the series to be created due to the situation. At the very least her works is much longer as a manga artist, and while untranslated, it goes to show how gorgeous her artistry has always been. I hope for the very best in her future endeavours, and pray to see her again.
Psychedelica of the Ashen Hawk is available on Vita and Steam.
Disclosure: Some links in this article may be affiliate links, which means we may earn a small commission if you make a purchase after clicking on them. This is at no additional cost to you and helps support Rice Digital!
Latest posts by Lilia Hellal
(see all)