5 of our most anticipated visual novel releases of 2021
We've covered 3 JRPGs we're excited to see more of in 2021, so here is what I'm most excited for in 2021 in the visual novel sector! Which titles are in your wishlist for this year?
Root Film
As the sequel to Root Letter, we return to the Shimane prefecture in an even more horrifying take in the Root series, which not even the most bizarre of Root Letter's endings could prepare us for! The game's scenario is the work of Clock Tower creator Hifumi Kono, and centres around the reboot of a cancelled TV show whose set becomes a crime scene when a body is found. The title borrows from its predecessor in many of its gameplay mechanics, such as the focus on investigating and interrogating.
The 'intuition mechanic' has you acquiring keywords during conversations, which you can then refer to while solving investigations and confronting witnesses or suspects. A 'zapping' mechanic allows the game to focus on two protagonists — the promising film director Rintaro Yagumo and the young actress RIHO — and allows us to get even more information on the events of the game by seeing them from different perspectives. Finally, 'Max Mode' returns from Root Letter, allowing us to confront suspects and make use of those all-important keywords. The final product sure sounds like it'll be a recipe for success just like Root Letter!
Root Film is set to release on March 31 for PS4 and Switch.
Variable Barricade
From the line-up of Aksys' upcoming otome titles, the one that had me squealing the most was Variable Barricade, originally on the Vita and exclusive to Japan until now. Its artist Usuba Kageroo is popular and beloved for their exquisite art within the otome genre, with their work including Wand of Fortune and Reine des Fleurs, so its localisation is truly a blessing for those who have not been able to experience it in context up until now. Variable Barricade stars Hibari, the only daughter of the rich Toujou family, who is approached by four men and immediately proposed to by each. They are all placed within a villa to live together until Hibari accepts a proposal — a scenario masterminded by Hibari's grandfather — but can any of them successfully have her fall for them?
The title itself has been praised by players who experienced the original release. Noted for being humorous and a nice change of pace in its reverse harem dynamic, with Hibari's tsundere personality and her lack of interest in all of the love interests being a highlight for many. It provides as an interesting and unusual grouping we have yet to see from a localised otome title, and is especially striking for having a vocal and headstrong main character. Our feisty Hibari will be fully voiced, and this is sure to add even more character to her fleshed out persona, making her quite unlike any other leading lady we have ever seen before!
Variable Barricade will release sometime in 2021 on the Switch.
Boyfriend Dungeon
Soul Eater as a dating sim, anyone? With an initial release date of sometime in 2020, Boyfriend Dungeon has been set back a year for "when weapons are beautiful enough". As a hybrid dating sim and action RPG, this indie title has already had a lot of time in the oven to develop, but its delay due to COVID-19 is most certainly the right move to ensure Boyfriend Dungeon is as polished as possible for its release.
Boyfriend Dungeon had a very successful Kickstarter back in 2018, which is not at all surprising given its unusual mix of roguelike dungeon gameplay, relationship building mechanics and visual novel style. Despite what its title will have you believe, it features a non-binary player character to allow for inclusive projecting and dating, with romancing of up to seven (an additional two through DLC) of your trusty weapons as you cut your way through hordes of enemies in its dungeon segments together. You'll be able to take your chosen partner out on a date in the urban fantasy setting of Verona Beach to increase their power in battles and build a relationship with them to uncover their own storylines. Also worth noting is the scythe called Rowan is designed by Hatoful Boyfriend's artist, Hato Moa. Neat!
Boyfriend Dungeon is set to release sometime in 2021 on Steam and Switch.
Gnosia
Gnosia was the announcement that took my breath away in Nintendo's December Indie World presentation of 2020. On first look its gorgeously surreal and vibrant art is unique and appealing, with an even more intriguing premise in its story. In fact, Famitsu awarded the title with a perfect score of 40/40 with its original release in Japan in 2019 on the Vita. Part visual novel and part Among Us-style deduction mechanics, players have a time limit of 15 minutes in one playthrough to identify the Gnosia, an alien that takes the form of humans, after conversing with their crew mates stuck in a spaceship. If players are incorrect in detecting the impostor, the Gnosia will infect other crewmates the following day, until over half the crewmates turn, at which point the game ends in defeat.
The game keeps each and every play through different as the first Gnosia is always randomised — and could even be the player character. This is similar to how the Werewolf-inspired Raging Loop played out, and that ended up being one of the best visual novels in recent years. The game is not merely a deduction game, either; the origins of the Gnosia and the looping of time will be discovered with multiple play throughs and as different crewmates escape alive in different endings. For a title that ends in such a short runtime yet needs multiple playthroughs to uncover the many layers to its story and mysteries, it's captured my attention in how it will play out!
Gnosia will be released sometime in early 2021 on Switch.
BUSTAFELLOWS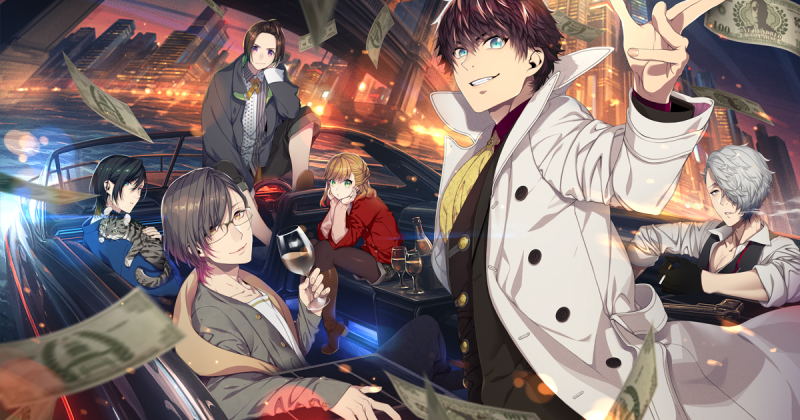 With how many otome titles that have already been announced for localisation in 2021, we're spoilt for choice as is! But which one am I the most impatient for? PQube continues to deliver the goods with the announcement of popular otome title BUSTAFELLOWS, following in the same vein as the rough and tough setting of Piofiore: Fated Memories' crime drama. We play as Teuta, a freelance journalist aiming to get her big break as a reporter. She has a mysterious ability to rewind time and placing herself in other people to help her investigations. Within the fictional New York-inspired town of New Sieg, Teuta witnesses the death of the game's poster boy Limbo, a nefarious lawyer. She decides to travel back in time to save him from his death — which, of course, catapults her into a world of crime and, better yet, criminally attractive men.
There seems to be some interesting interactive mechanics in this game as you use your notepad to solve puzzles, and you'll have to make rapid, timed responses when building trust points with the love interests. Better yet, it's once again another serious and plot-heavy otome with plenty of twists and turns in each character route and true ending, along with a unique setting and art design inspired by America. There's even a voiced heroine! Considering these different mechanics unique to the genre alongside yet another highly attractive looking cast as always (Hello there, Shu), BUSTAFELLOWS is my most anticipated visual novel of 2021!
BUSTAFELLOWS will release sometime in 2021 on Switch and Steam.
Disclosure: Some links in this article may be affiliate links, which means we may earn a small commission if you make a purchase after clicking on them. This is at no additional cost to you and helps support Rice Digital!
Latest posts by Lilia Hellal
(see all)