5 Multi-Language Physical Switch Visual Novels to add to your collection
The Nintendo Switch already has an abundance of English visual novels available to hold within your hands as physical copies. With the Nintendo Switch being region free, it opens up a lot of potential purchases outside of your own region. But did you know that there are Japanese only physical copies that have options for English subtitles/text? I had no idea until recently, so for those who also happened to be left in the dark on this, trusted sites such as bazaar-bazaar and PlayAsia offer many of these and even iconic visual novel titles you can own physically. You too can add to your wonderful looking visual novel collection with these physical Switch visual novels you may have previously overlooked or not know of even existing.
Maitetsu: Pure Station
Welcome to loli central! Set in a fictional Japan known instead as Hinomoto, a form of rail travel has been a viable mode of transportation for many years. To further aid the train pilots, RailRoad's were implemented for each locomotive, appearing as humanoid controllers. Due to the popularity of the aerocraft however, this aerial transportation has made rail travel obsolete, making many RailRoads out of action and forcing them to be in a constant sleep state. We are Migita Soutetsu, who suffers from trauma after losing his entire family in a rail accident shortly before the decline of its popularity. He was adopted into the Migita household who run a small brewery business in the city of Ohitoyo. He returns to his hometown to support it before a factory is implemented near the establishment that would affect their trade. He soon meets the RailRoad Hachiroku, waking her from her slumber and consequently becoming her owner that kick-starts their journey in locating her lost locomotive.
The appeal of Maitetsu may be evident enough with one look because take in all that lovely artwork and aesthetic! The animation and art is exquisite, with some of the best lip syncing I've ever seen from a product before in which I hope becomes more prolific in visual novels. The dynamic graphics that has each sprite come to life with breathing, blinking and other subtle movements is a wonderful detail I can currently only recall in Song of Memories. Maitetsu has a notable impressive production, and this includes substance, with a creative and appealing story behind it. Maitetsu has an amazing tale to tell, rich with detailed explanations and exploration into everything and anything railwork related, and with fantastic world building. Each character has many hardships throughout their routes and this includes the deep and interesting protagonist as well. My one gripe with the title is feeling uncomfortable due to how young the love interests look, but because it is on Switch, any explicit CG's and events have been removed. What can I say, I like Maitetsu to remain as pure as it can be!
The game has 7 routes consisting of its 3 main love interests and 4 supporting character routes, with a grand ending as the last route unlock. This can take up to 50+ to complete. Bazaar-Bazaar do have a few copies still in stock to order!
Yumeutsutsu Re:Master Bundle Pack
From the creators of the well regarded Nurse Love Addiction series that focused on budding love between nurses in a hospital, this time it's in the workplace of video game developers! Set in the small but caring studio Eureka Software, located in Koenji not far from Tokyo we are Ai, who finds herself leading a group of game developers remaking a doujin game called Nie Witch. She joins the team to find her younger sister Kokoro, with the pair not growing up together due to their parents' divorce.
Yumeutsutsu is filled with the heart warming moments and adorable characters developer Kogado Studio are known for with their Yuri titles. Ai's team and love interests are all memorable and quirky in their own individual ways, making for each route feeling different but still entertaining with the various personalities on the team. This is also due to different writers of the studio creating each route, so while the quality and enjoyment of each route will most certainly vary, it makes for a noticeable mixture of plots and developments with very surprising and unexpected progression and conclusions. And as you can expect from a video game about creating video games, Yumeutsutu is not shy when getting meta, throwing around plenty of fourth wall breaking remarks and jokes, and a wealthy amount of references to existing games, from Dragon Quest to Fist of the North Star. Noticing these are just one way to enjoy yourself with reading through 80+ hours of content! As a double package including the fandisk, you're getting your money's worth with this.
Bazaar-Bazaar do still have a few copies in stock to order!
Little Busters Converted Edition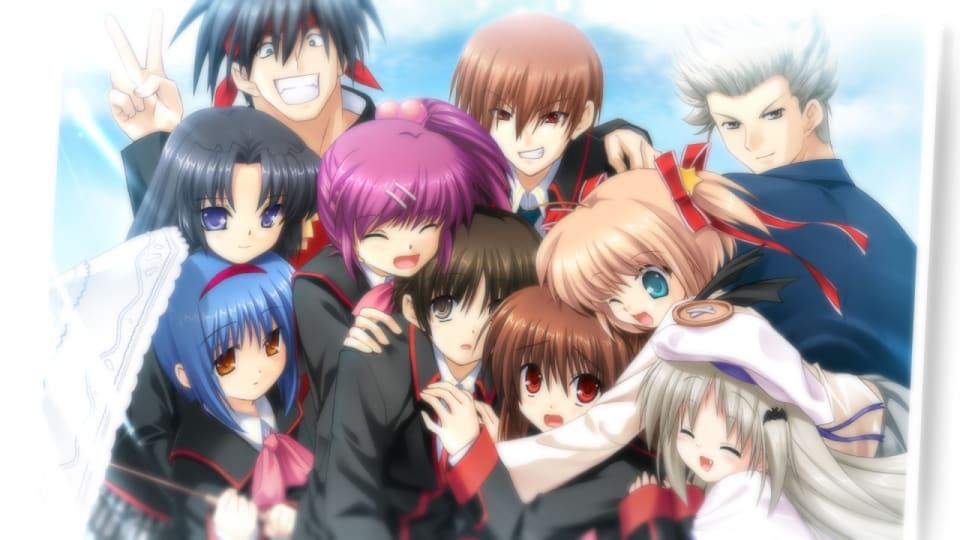 Prototype's release of this notorious visual novel with English subtitles is the only current way to own Little Busters physically in the West. Clannad was considered but in comparison to this later title from Key, Clannad has received both a Prototype release for PS4 and Switch, and has even appeared as a Limited Run Games title this year making it at least slightly more accessible than Little Busters.
From the iconic studio Key, Little Busters is yet another title from the studio that is a prime example of what makes Key a stand out visual novel company; emotionally driven, elaborate story lines with an incredibly strong, creative and fitting soundtrack, and instantly recognizable artwork. Little Busters! is a classic visual novel that implements sprinkles of other gaming mechanics unlike many other visual novels, from mini-games to even a baseball game. The game follows Riki, who lost his parents at a young age, causing great pain. That is until a group of four kids calling themselves the Little Busters invites him to their group. When it comes to his second year of high school, increasing the number of the Little Busters! is his prime goal! Through an intriguing and gripping tale filled with emotional highs and lows, engrossing character exploration and progression, and as the latest version of the game with added features exclusive to the Ecstasy version (added heroine routes, character epilogues and bonus mini-games) makes this another must have for any visual novel enthusiast.
Little Busters Converted Edition is currently out of stock on both PlayAsia and Bazaar Bazaar, but may be listed on second hand sites such as eBay. Keep your eyes on it and save it as a search!
Grisaia Trilogy
Want even more bang for your buck? The Grisaia Trilogy packs all three main entries of the very popular Grisaia series (The Fruit of Grisaia, The Labyrinth of Grisaia, The Eden of Grisaia) into one cartridge for the Switch for around £69, and this even includes the shorter side stories (The Leisure of Grisaia, The Afterglow of Grisaia, The Melody of Grisaia), prologue, three after stories, and twenty nine short stories. This can make up a full run time of around 150+ hours!
Set in Mihama Academy that currently has only five females occupying its premises, we are Kazami Yuuji who is the first male to arrive at the Academy. Each student has their own routines that begin to crumble with the introduction of Yuuji. Could this be their undoing, or the help they need? With each heroine having their own reasons for enrolling in this setting not too different to a prison and surrounded by walls, Yuuji finds new resolve in a meaningless life to find hope in helping these women. Each route is as engrossing and enthralling as the last, and with a story that masks its own protagonist in mystery with his own grey past, this makes Grisaia so much more than what initially appears as a typical feel good harem story. Grisaia has been available on Steam since 2015, and to this day continues to be a highly rated and recommended visual novel for many. So hold on tight for a ride so dramatic and unexpectedly deep you won't be wanting to get off of any time soon.
PlayAsia still has plenty of the Grisaia Trilogy in stock!
My Girlfriend is a Mermaid!?
You read that right. When picking this fifth choice between My Girlfriend is a Mermaid!? or The Fox Awaits Me, it was an easy decision. My Girlfriend is a Mermaid!? is surprisingly long for a premise you wouldn't expect could be fleshed out as much as it does, but the title can take up to 30 hours to complete all its endings and bonus material. And for a visual novel even more niche than any other of its kind due to its particular love interest being part fish (maybe not too far off of monster girls), My Girlfriend is a Mermaid!? was thankfully a success on Kickstarter, being backed up to receive a localization and brought to the West. As a fan of comedy and specifically slapstick, My Girlfriend is a Mermaid!? holds nothing back in producing humorous situations, dialogue, and outrageously silly and bizarre characters and interactions. For so much of a fun time this provides for the most part, the title does have its moments of getting melancholic and serious, so it strikes an entertaining balance of wholesomeness with substance in its plot. And with extra stories to unlock by completing its endings, you'll once again be receiving coverage for your money spent.
Our protagonist returns to his rural hometown for the summer and is reunited with his childhood friend Ion, who turns out to be a mermaid. Soon after he also meets the amnesiac Petakko and a priestess who cares for mermaids with a split personality called Rin. Why has your childhood friend turned into a mermaid? The legend of the mermaids runs deeper than you'd expect!
My Girlfriend is a Mermaid!? is currently out of stock on PlayAsia, but may appear as a listing on second hand sites such as eBay.
I hope you found something new and interesting to add to your wish list. Please remember that due to these games being on the Nintendo Switch, the explicit CG's and events from each title have been omitted. These versions of the titles are available on Steam instead (with the exception of My Girlfriend is a Mermaid!?, exclusive to Switch).
Latest posts by Lilia Hellal
(see all)