The wild world of fan-made dating sims
I like to think that we're all fans of the internet here. Where such a place is so vast and wide with so many fascinating discoveries to be made, from some of the most brilliantly written fan-fictions that have no right to be as wonderful as they are (a topic for another day), to the now outdated flash games most of us found ourselves playing instead of learning during our school days, the realm of fan made dating sims is one of the most striking departments of this.
Where intellectual property (IP) become as big as they can be, touching the hearts of thousands of loyal fans around the globe, these dedicated fans give back to their – almost always – lovely community, and in arguably my favorite way of all, their free-to-play games based on the work. We have got a lot to cover with this, so without further ado, here are some little gems that caught my eye that you may also be interested in playing!
Joestar Struck
Ever wanted to ask a Jojo character out to prom, or is that just me? Based on the otome genre, Joestar Struck has you being able to woo its first four protagonists of the anime series; Jonathan, Joseph, Jotaro and Josuke. As you would expect from a passion project, its creators have been careful to portray Hirohiko Araki's beloved Jojo characters not out-of-character, even with a realistic setting of a high school where Jonathan is a teacher, and everyone else are students. Considering its premise and Team Scallyway's ability to seamlessly pair the eccentricity of Jojo's cast in our seemingly mundane setting, this makes for many humorous situations to play out as you learn more about your favourite Jojo star whose hardships in this short game you must aid them through to grow closer to and secure your match made in heaven.
With numerous cameos and references to the official manga and anime for you to catch, Joestar Struck is a very on the nose experience for fans to get plenty of laughs from and as a fulfilling and entertaining dating sim even for those not too familiar with the series. As a person who holds such valuable knowledge that this games exists, I want anyone else who is as excited as I was to stumble on this game to also join in on the silly shenanigans.
You can download the game for free (name your own price) on Team Scallywag's itch here.
Resident Evil 4 Otome
Yet another otome visual novel, as nicely evident in its title that reads as a creation I'm sure no one expected to be made, both Resident Evil and otome are combined to create an even more bonkers premise than our previous title. And it only gets weirder from here, as we play as Resident Evil 4's supporting lady as the player character, who more often than not did everything she could to not help the player as Leon in the game's original events.
Resident Evil 4: Otome Edition fleshes out Ashley as she narrates the events of the original game through this fan made piece, with some incredibly humorous dialogue to bring us fans a wacky and silly, short adventure. Plenty of jabs are made at the expense of both the visual novel genre and Resident Evil 4, of course with the upmost respect. And as an otome, you can be sure that at least one of the available bachelors is Leon, including Luis and even the Merchant. Part 1 is currently available, with its part 2 to be announced some time this year. If you've exhausted yourself with the intensity of Resident Evil 4, with multiple runs, this is a perfect counterpart to relax yourself with instead.
You can download Part 1 of the game for free (name your own price) on Shimmersoft's itch here.
A Blastastic Love Story: KiriBaku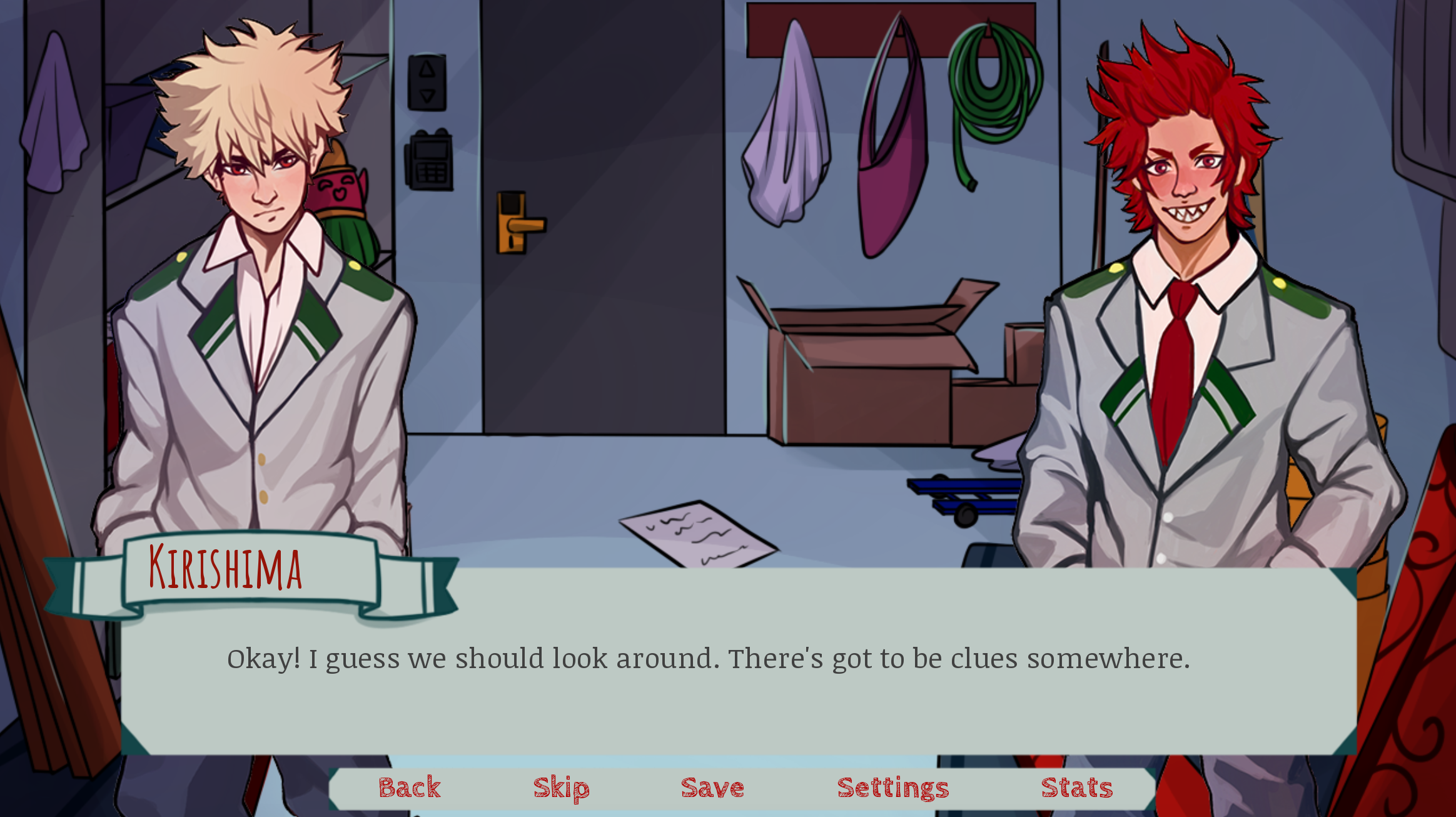 Considering how popular My Hero Academia is, you can bet your everything on how persistent the shipping scene is within the fandom. The possibilities are endless, from the bizarre appeal of Bakugo x Uraraka, the cutest duo of all to grace us at every appreciated chance in the Kyoka x Denki pairing, and of course, the popular fujoshi (female fans of Japanese media with a thirst for male/male romantic relationships) match-up of best friends Bakugo x Eijiro. A Blastastic Love Story is centered around this pairing, with the player playing as Eijirou to confess to Bakugo by the end of the game.
There are 4 different endings to obtain in a play time of around an hour, alongside 9 different achievements to discover, so the replay appeal of this one in particular will have you coming back to choose every possible selection available. On top of the slick and stylish presentation and art, there's an exciting escape room segment to look forward to and even a trivia portion which is always a joy for any fan to indulge in. Additionally, there's an engaging mechanic of stat balancing reminiscent to other otome titles such as RE: Alistair and Dandelion, an underutilized mechanic which never fails to add another layer of gameplay to the genre.
You can download the game for free (name your own price) on Choco's itch here.
Haikyuu: Escape Room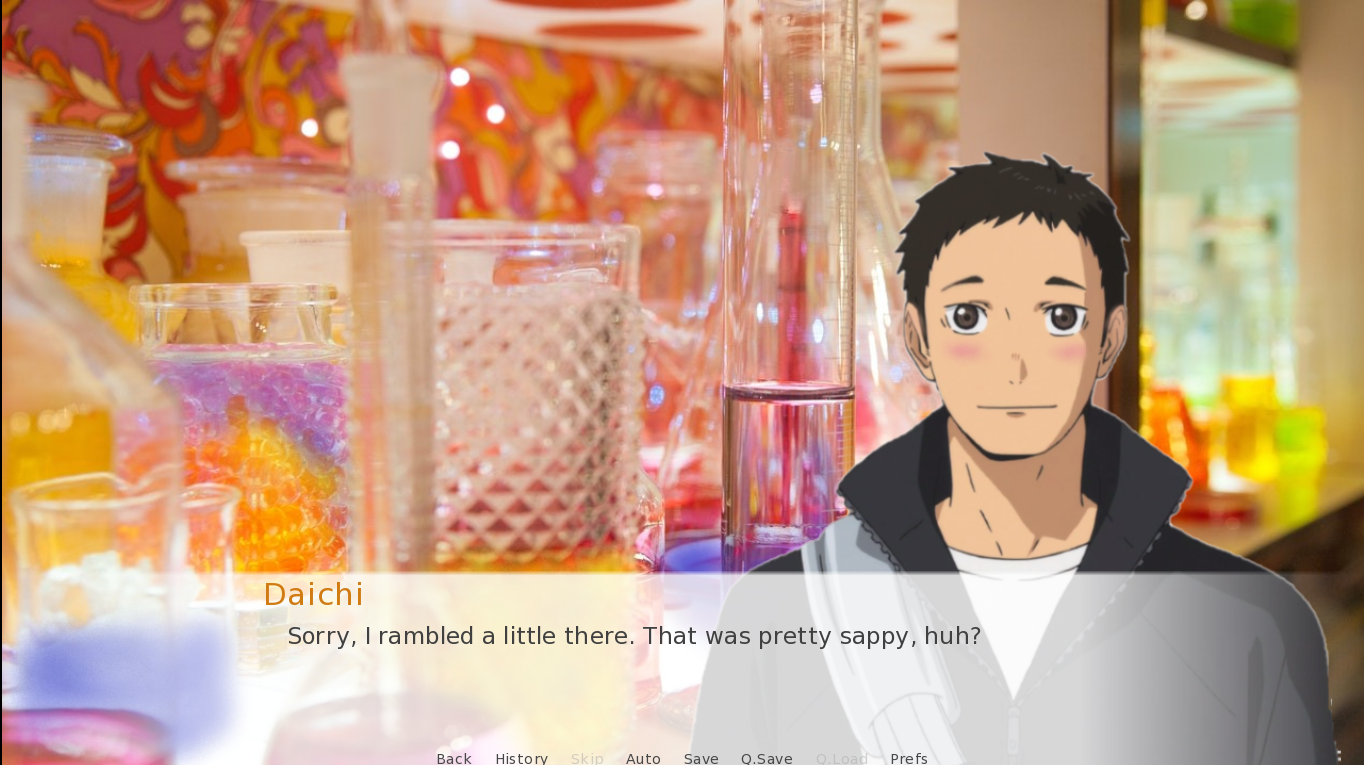 Talking about escape rooms, how about a small game consisting of its whole run time being in one? As the player is effectively plopped into the premise as part of a team building exercise with Karasuno High's volleyball team inside the titular escape room, it offers plenty of original and challenging puzzles (its locker one specifically is downright ruthless!). This is perfect for those who are partial to something akin to the Zero Escape series with maybe the only cause of injury in playing the Haikyuu escape room being your heart skipping a beat. In case you are having a hard time with its puzzles, you can enable hints and change difficulty from easy, medium or hard. In addition, depending on your choices in the escape room, you can end up with being paired off with one of the lovable members of the Karasuno volleyball club!
It's the most recent creation of our recommendations, and its creator spent a while constructing and executing these original ideas for our own entertainment, so head over to their itch.io profile and put an hour or two into some head scratching situations. Be sure to have either a notepad on hand or a document open on your devices to make notes as you'll be spending just as much time making notes then switching to more game time. Props to mooncreates for this originality and creative challenges!
You can play the game in your browser or by download on mooncreates' itch here.
Symmetra's Qualifying Matches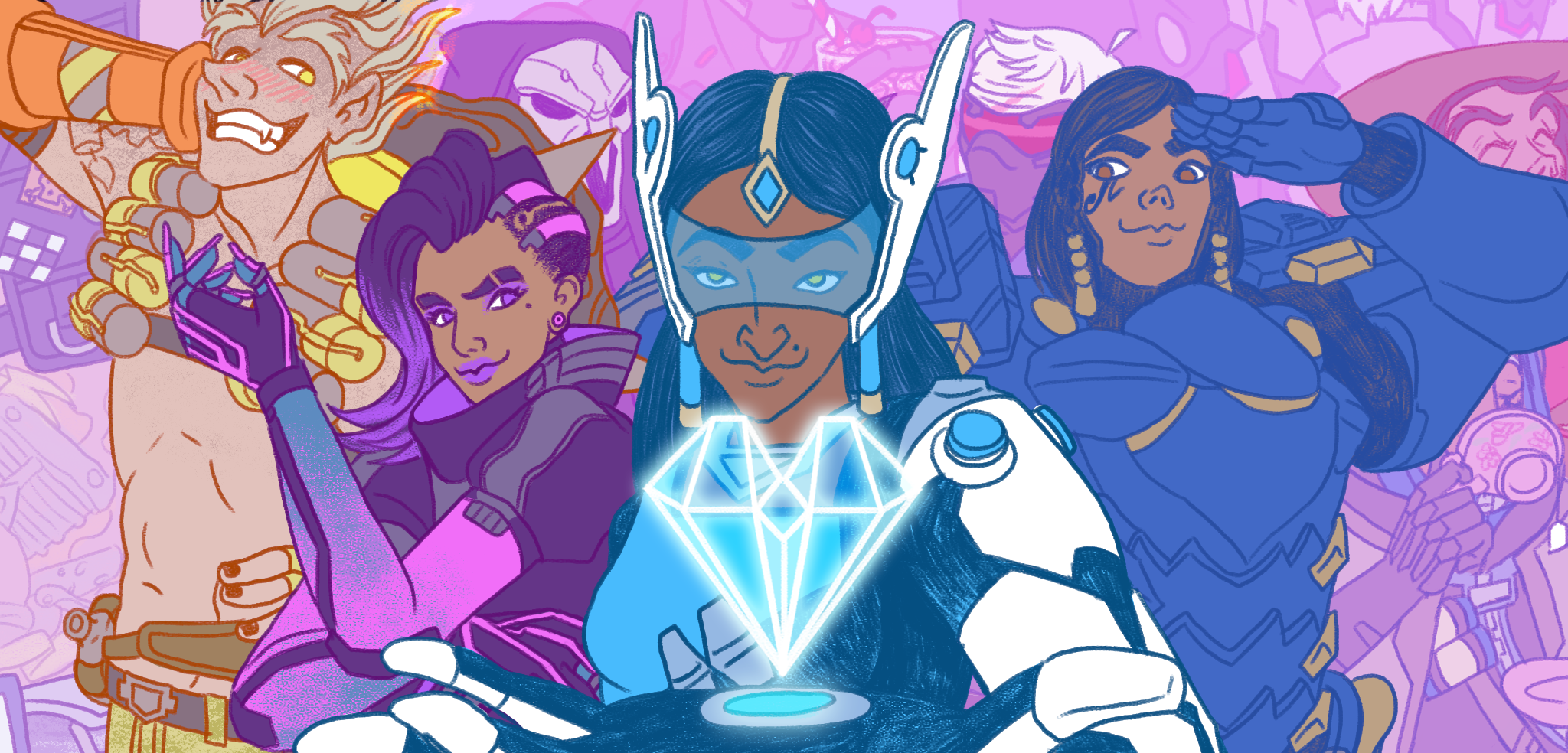 After seeking any updates on the now quiet development of the hyped release of Loverwatch, I stumbled upon the hidden gem of Symmetra's Qualifying Matches. As a very passionate enthusiast for anything Overwatch related, Symmetra's Qualifying Matches qualifies as an amazingly humorous and romantic take on everything that makes what we already know and love about Overwatch even better.
As Symmetra, experience 10 matches while developing a relationship with three of its characters; Junkrat, Pharah and Sombra. For anyone who doesn't care for the dating aspect, fans will enjoy many inside jokes and comedic references we all have experienced in our play time, from a cheeky Junkrat setting up a rap right outside the door before the match begins, to voice line inserts when you're not expecting them, and even plenty of memes (Mess with Jeff, prepare for death being a favourite).
You can play the game in your browser on sisyphusrocks' itch here.
Bonus – Freetime Event: Theatrical Release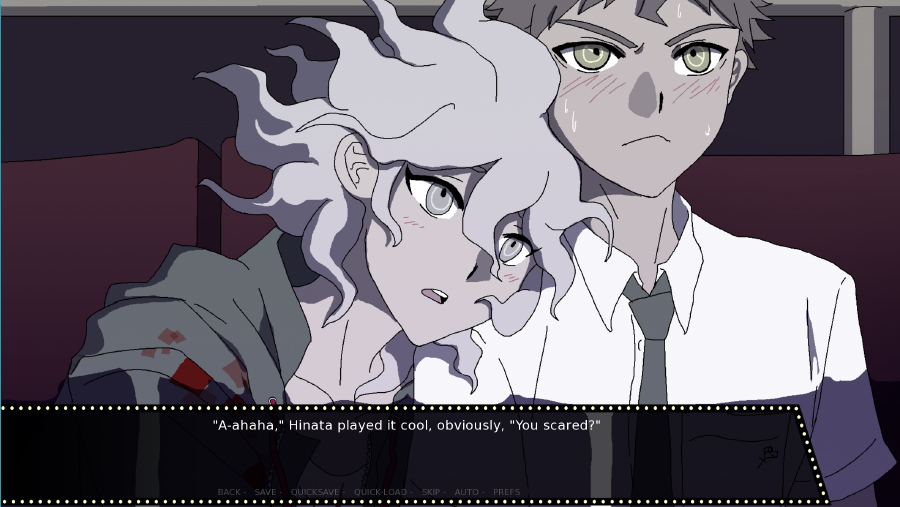 Freetime Event: Theatrical Release is for adults only, as it is completely NSFW, so only play this in the confines of your own comfort and if you are 18+. You have been warned! It's not like I sought out this work, but the effort put into its dialogue, art and scenario is so remarkable that I'm glad I indulged in this sinful piece. I will, without a doubt call this smut as pure as it can be due to the relationship between Hinata and best boy Komaeda being way too fluffy and cute that it makes me question each and every interaction the pair had in the original game.
The script is seamless, intertwining the two effortlessly while retaining their original personalities, and this is topped off with simple, yet appealing artistry from the sprites to the CG's. The title "Theatrical Release" relates to Danganronpa 2's cinema located on the third Island in Chapter 3, and this is only the first of many obvious callbacks to the game. Freetime Event: Theatrical Release is if your favourite, sinful fanfiction came to life, topped off with a mystery surrounding Hinata's lost pants, of course. It's cute, it's smutty, and it's so well presented. What did we do to deserve this? Talk about Ultimate Luck!
You can download the game for free on yndr4hope's itch here.
What quirky gaming gems based of preexisting IP's have you discovered and enjoyed? Let us know in the comments below!
Latest posts by Lilia Hellal
(see all)