Top 9 unskippable anime endings as good as their openings
I won't be the only one who got into Japanese music thanks to the many incredible anime shows out there. Here we'll be highlighting the shows that had the added bonus of not only being equipped with an amazing opening but a just as worthy of an opening number in the ending theme. There'll be no end song skipping with these series, I assure you! Grab a snack, get a YouTube tab open in your browser, and let's see if you agree or disagree with my picks. I'll explain why I enjoy the songs, how they fit nicely into the shows, and maybe even a bit of background discussion on the artists I cherish most. Some will be longer than others for this reason!
Long running shows were not considered as many anime endings would play alongside the same opening. Picking an artist more than once has been avoided as best as possible.
The best anime endings:
Blood Blockade Battlefront (BBB)
Ever since 1999, Bump of Chicken have been releasing incredible albums non-stop. I put this mostly down to Fujiwara Motoo, the band's vocalist, guitarist and lyricists for his often poetic and story like lyrics. I often compare the band to Radwimps for their vocalist and lyricist having the same incredible talent of creating emotionally charged songs through lyrics which are thankfully almost always translated. With Bump of Chicken, they've been absolutely killing it what with collaborative campaigns from HUNGRY DAYS for the One Piece animated video with their song "Kinen Satsuei" and most recently Pokemon Gotcha! for their song "Acadia". Before such attention however there was a noticeable blow up in the West with their opening for BBB.
BBB uses Bump of Chicken's "Hello, world!", the very best single (in my humble opinion of course) in their album Butterflies, and the enjoyment of the anime overall is aided by Unison Square Garden's "Sugar Song to Bitter Step". The only other time I've noticed and loved Unison Square Garden is with another anime tie-in of Tiger & Bunny, providing the incredibly repeatable track of "Orion wo Nazoru". Both tracks of theirs are energetic, exciting and deserving of being opening tracks, despite how much of a banger "Hello, world!" is! "Sugar Song to Bitter Step" is one of the best happy tracks I've heard in recent years in anime. It hits the nail on the head to get you up and dancing, and props to the animators for doing such a grand job in the ending scene to reinforce this!
30-sai no Hoken Taiiku
This very well may be the most unconventional choice on here. Or at least unexpected. Kanon x Kanon is the duo of Kanon Wakeshima of "still doll" fame from Vampire Knight's first ending song, and An Cafe's Kanon, an Oshare-Kei band. They're called Oshare-Kei for being the opposite of Visual Kei. Both genres are known for the artist's unusual fashion, Oshare-Kei being the colorful side while Visual Kei is often dark but just as androgynous and flamboyant with the big hair and heavy makeup. It's the equivalent to the West's glam rock.
So of course their name came about quite easily I would imagine. Kanon Wakeshima has always received a lot of criticism for her movement from gothic to pop, where her atmospheric and dark cello usage became pop princess after she stopped producing music with Malice Mizer's Mana (a Visual-Kei icon) since her first album released. I argue that where she sounded her best when venturing into more poppy territory was with Kanon x Kanon, with "Koi no Doutei" being my absolute favourite. It's high energy, overwhelming cute, and absolutely fitting to the bizarre, rom-com of the title. It's sugary sweet lyrics are the cherry on top.
On the other hand, AIRI who provided the ending song "Learn Together" is an artist I am not that familiar with other than listening to the song's album once (Puzzle) and being unimpressed by it. However "Learn Together" is an anime song I will always venture back to. It's downright adorable, being energetic enough to be the opening track but deserving to be the ending song what with the animation of each episode being on a cycle of showing the two main characters growing up by each episode. It's wholesome as heck.
Soul Eater
To start off with, I don't think anyone wouldn't expect either of these two names to appear on such a list. Tommy heavenly6 has provided anime hit after anime hit, from Bakuman, to Paradise Kiss, and to here with Soul Eater in its second opening song. I find "Papermoon" overshadowed by the incredible first opener. It's most definitely underappreciated for this reason, and it's a shame considering how consistently impressive Tommy heavenly6 is. Her discography is remarkable! And while I won't argue how great of a song T.M. Revolution's "Resonance" is, his band Abingdon Boys School's "Strength" actually impresses me more. In fact it stands out to me most over every other ending song.
I would never skip this ending despite it being implemented at the height of the final villain, but it's just that good you won't be wanting to skip it. If you want to discover even more Abingdon Boys School goodness, their ending song for Tokyo Magnitude 8.0 called "Kimi no Uta" is just as striking, with some of the most gorgeous and emotional lyrics I've ever laid my eyes on. Or just listen to a full-length album of theirs, if you haven't already. I can't encourage you enough!
Durarara!!
I did have quite a tough time deciding on Baccano! or Durarara!!. With only 9 places available I ended up choosing Durarara! after I remembered I had listened to its opening and ending over 760 times on my old iPod. That was a treat to dive back into. Theater Brook's "Uragiri no Yuuyake" is what I would regard as a classic anime opener. It's well-known, prolific across the many "Guess the Anime theme song" YouTube videos, and is a tie-in to one of the most recognized and praised anime shows out there.
Yuya Matsushita's "Trust Me" solidifies this, being one of the freshest, most engaging anime ending songs ever. The visuals do a lot to aid this, as it has become just as memorable for its stacking of the massive cast on top of one another, being artistically copied by fans for other anime shows. "Trust Me" is one of Yuya Matsushita's most successful tracks to date, and it can't be any surprise when knowing it's tied to Durarara!!. It's got soul, it's got a toe tapping beat, and it's got the adorably fitting lyrics to fit with Durarara!!'s plot concerning friends, and stand on its own by being memorable even after years of having watched the show.
D.Gray-man
You may have caught me breaking my own rule, but if it's to include this beast of a track, then I'm sure I'll be forgiven! I have previously mentioned T.M Revolution during the Soul Eater, who I can assume is best known for this tie-in. T.M Revolution also provides the first iconic opening to the original D.Gray-man of "Innocent Sorrow". It's got the edge, the exciting tone down and hard hitting chorus to make it fitting to this darker shounen title. T.M Revolution is always able to strike gold with his works, making his openers stand above the rest every single time.
Incoming unpopular opinion time now that I have said that though; Nirgilis' "Snow Kiss" as the ending track is even better. It's much more calmer and tranquil than "Innocent Sorrow", but it makes the overall package much for balanced, what with it closing out a mostly always tense and action packed episode. "Snow Kiss" has a slight techno edge equipped with poetic, emotional lyrics, and it is personally a very nostalgia track many fans of the show will relate to.
So since I've praised T.M Revolution enough, it's Nirgilis' turn. Nirgilis' "sakura" was used as Eureka Seven's 4th opening, and their "Kiseki" track was used for the Birdy the Mighty Decode:02. Their vocalist certainly has an unusual voice, but it makes them all the more charming, so if your ears do agree with her nasally voice, their album RPG is exquisite. Preserve their memory and impact on anime by giving them a listen!
Guilty Crown
Talk about style and no substance, here comes Guilty Crown! As an absolute fanatic for anything ryo related, he is the leader of the group supercell. By the time Guilty Crown came about with a star studded cast ranging from studio Production I.G (Attack on Titan, Psycho-Pass and Haikyuu), directed by Death Note's Tetsurou Araki, and music composed by the legendary Hiroyuki Sawano, the opening and ending are both supercell classics, two of the biggest hits from the group.
"The Everlasting Guilty Crown" was made with the anime in mind, so not only is it fitting as the anime's opener, it solidified the anime's worth of even being watched despite its story being so empty. Its a typical anime tie-in, but its so high energy and memorable that it can be the only reason you get through the episodes just to hear it again! From insert songs such as EGOIST's "Euterpe" to the entire soundtrack (bios is perfection), Guilty Crown is remembered fondly not just for its solid art that withstands the test of time, but for every single piece of OST. "Kokuhaku" is just as much of an important part of the anime, with lyrics paralleling its main characters journey and delivered by the unusually raspy and emotionally hitting vocals of supercell's brilliant Koeda. Absolutely breath-taking.
Kuroko's Basketball
If there's a sports anime I would say is my favourite, it would definitely be Kuroko's Basketball. It's got enough silly "power ups" to not seem ridiculous for a sports anime, but it's entertaining enough to see how it plays out and how on Earth they continue to improve. The rocking duo of vocalist KISHOW and guitarist e-ZUKA make the band GRANRODEO, who often provided tie-in's for the anime. "Hengen Jizai no Magical Star" followed from two previous openers of the duo for the anime and takes the cake. The track is theatrical thanks to KISHOW's passionate and rocking vocals, and it perfectly suits the high tension of competitive sports in anime. In fact it surely is fitting when those with well trained ears can hear that KISHOW plays as supporting character Tatsuya Himuro!
Furthermore, the anime runs the full length by implementing theme songs suited to its show what with "FANTASTIC TUNE" being a song by Kuroko's very own voice actor, Kensho Ono too. It's yet another indication that the voice actors provided music tracks to the anime, as the majority of the cast even the supporting members have two of their own character songs. Sweet! While it's good news for GRANRODEO fans that KISHOW feels more suited to singing with a bunch of albums to back up his preference in this performing over voice acting, it's a shame the same cannot be said for Ono, who has only one album. "FANTASTIC TUNE" is telling enough how brilliant of a singer he is!
Psycho-Pass
We had previously seen the vocalist of the band Toshite Sigure leaving an everlasting piece of anime significance to last a lifetime with his "Unravel" for Tokyo Ghoul tie-in. That's right, here we have TK alongside the band he first ventured forth with to show off their unique musical talents. Their style is heavy and grungy, with very harsh vocals that penetrates the eardrums and shakes your very core. All for the better of course! "abnormalize" is gritty with grainy animation to go alongside it, making for a song you know is telling for the rollercoaster ride you're about to embark on in the anime.
And once again, what else could you expect from me concerning its ending song? EGOIST is headed by supercell's ryo, and has the vocalist Chelly provide as the gorgeous vocals. Chelly is very reminiscent of Yanagi Nagi, but is most definitely different enough to not be exactly the same in tone or delivery. There's an innocence and fragility to her voice that adds to each track handed to her, with "Namae no nai Kaibutsu" being an astonishingly unusual song for her to excell in so beautifully. There's a harsh and rough edge to the track that is unlike anything that came before it considering how soft and delicate her voice is. Perfect for the tone of Psycho-Pass' dark and psychological material, "Namae no nai Kaibutsu" is something unique for chelly, and is a masterpiece of a track all by itself.
Berserk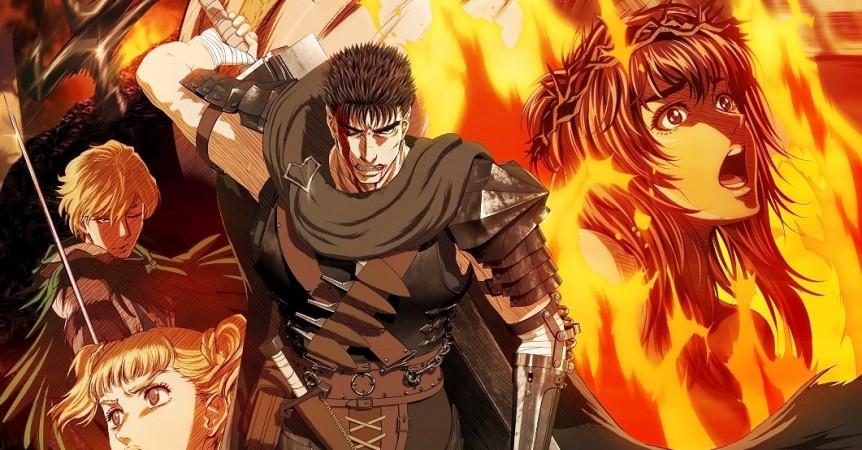 For anyone who knows me, supercell is my favourite Japanese band other than Plastic Tree. Yanagi Nagi who got notirity from being supercell's first ever vocalist split from the group back in 2012, and since then has provided a substantial amount of anime tie ins. Fellow otome players will know her from Norn9 and Amnesia's anime/game openings, and anime watchers may know her best from shows such as Jormungand with "Laterality" and Ano Natsu de Matteru with "Vidro Moyou". In 2016 we got the unforgivable anime adaption of Berserk, but certainly not as we wanted. With a shocking amount of CG throughout each episode and with very questionable directing and shooting which often was confusing to process, its opening shows what could have been.
9mm Parabellum Bullet provides the opening with "Inferno", an aggressively harsh but rocking tune that fits Berserk like a glove. It's hot blooded, quick, and so desperate sounding. On the other hand, its ending is Yanagi Nagi's "Meimoku no Kanata", and with her soft and unusually breathy and light vocals, it juxtaposes with the harsh and gritty opening, feeling very fairy like (Hi, Puck) and fantastical in comparison. It feels like taking a well deserved breath after the harshness of Berserk's story (and anime CG).
So that's my list! Plenty of anime shows have not been included, so what would you add to the list I've missed out on? Let us know in the comments or on our Discord!
Latest posts by Lilia Hellal
(see all)