Getting ready to soar with Aokana: Intro and Guide
Today is a day for celebration as the hit visual novel Aokana – Four Rhythms Across The Blue comes to the Switch, originally released in 2014. This marks a first for the title to appear on console systems outside of Japan in the West.
Aokana has been available on PC through Steam since September 2019. The only difference you might need to know about the versions available across the various platforms is the knowledge of the freely available R18 patch to restore the adult only scenes NekoNyan calls "The Perfect Edition" located on their website for Steam application. I would personally argue that these restored scenes are not necessary to enjoy the all-important story, and we'll get into why.
Why we're excited and what you should know
This will be the first time Western fans of the visual novel genre will receive a physical edition of this well-regarded title. This comes in the form of a package with the case and cartridge, and a fully coloured artbook purchasable on our Funstock site here. Not only is it always a blessing to play a video game on the go, but what's worth noting on top of obtaining its Limited Edition on Switch is in comparison to the PS4, there is censorship on four scenes being modified and three scenes being removed. The Switch is a full all-ages release, meaning the only way to play its explicit sexual events and CGs is through the download of a patch for Steam application.
Mini-review
The game's common route is exceptionally lengthy, with a complete play time of all four routes potentially reaching 50 hours depending on your reading speed. What makes Aokana as remarkable as it is is due to its polish in presentation and slick production. Aokana is chock full of event CG's and special effects that amplifies the feel of animation and movement.
This is especially important for a sports visual novel, where plenty of its enjoyment and emotions felt are during the intense competitions. The appeal of the lack of choices made throughout the game (the most possible being 13 in one route) enforces the unique way the game feels like an interactive slice-of-life/sci-fi anime. It's exactly like watching a fantastic sports anime, with exhilarating, emotional competitions, and an extraordinary amount of character growth along the way.
sprite's input in the visual novel market is monumental despite only producing two titles (their first release in 2010 being Koi to Senkyo to Chocolate, another favourite to many) for currently sitting at the 27th spot of most popular English visual novel on vndb and a score of 8.33/10. Both the music and art are impressive, with the sprite work being expressive at every given opportunity, sound effects and art really popping and exploding on the screen (be it handheld or docked!) during its match segments, and beautifully fitting credit songs that are different depending on the route taken.
And as I mentioned before, the appeal of Aokana appearing like an anime is due to the game's unusual 'episodic' previews after every chapter, creating pleasant visuals and interludes before the next 'episode'. It's no wonder the anime is almost as perfect as its origins!
On top of such a pleasing presentation, we have outstanding VA work and a charismatic cast with so many lovable side characters you'll be wishing many of them to have their own routes (Shout-out to Aoi and Saki!). And thanks to the localisation efforts, the translation is flawless and makes the English release of the title all the more polished, causing Aokana to stand out even more as a must have for any visual novel fan. Aokana looks and plays fantastically, but the brilliance isn't just surface level, what with plenty of unforgettable, sympathetic and emotional stories to delve into.
So, where should we start?
Let's set the scene first with where our story begins. The discovery of anti-gravitation has paved the way for the development of the Anti-Graviton Shoes around the inhabited islands in Japan known as the Four Islands Archipelago. Not only did this become an effective way to traverse, but it would become so influential that it was made into a sport known as the "Flying Circus", becoming increasingly popular with each passing year.
You are Masaya Hinata, a once well regarded prodigy who no longer feels passionate about the sport due to a certain defeat. He becomes not only a member of Kunahama's Flying Circus club, but its coach to teach the passionate, and promising new transfer student Asuka. Lead the team through either defeat or glory as they compete with the top student athletes in Japan, with a past yet to be revealed and a future for you to shape.
Now it's roll call time! Below we'll list the best route order for you to undertake to make the most of the developing plot lines without encountering early spoilers. In each section we'll also detail the characteristics of Aokana's strong, unforgettable leading ladies, and the correct choices to make that lead into their route.
1. Ichinose Rika
Rika attends a different school from her love rivals but happens to be Masaya's neighbour. She is actually my favourite heroine based on personality and looks (Hot take number 1!) but with a route that does not withstand the star power compared to her love rivals (considering all the plot relevancy of the two "best girls" specifically). She's clumsy in all aspects, be it by forgetting to draw her curtain as she's changing, to her attempts at expressing her thoughts and opinions that often lead to misunderstandings.
These appealing attributes of what makes her Rika is the main focus of her route, as Masaya teaches Rika to be less serious and more playful with her FC playstyle to become a better player. As an honour student, Rika appears as serious as possible and works hard, but learns to be true to who she is during her time with Masaya. While her route is quite detached from the grander schemes of the overall plot, Rika's acts as a great introduction to the futuristic world of Aokana.
1. Call out to her
2. Because I want you to know how to fly
3. Ask her about Misaki's lack of motivation
4. Sure, why not. I'll tag along
5. Tell her to try harder
6. Continue our practice
7. Come up with a special move
8. Tell her
9. Go and talk to her
10. No, I can't do that
11. You should do what you want
12. If you're fine with me, I'll do it
2. Arisaka Mashiro
As one of our resident gamer girls we love so much she features on our top best gamer girls in video games, Mashiro is the cutest cast member of Aokana. She initially appears as possessive and obsessive over her senior Misaki, who she idolizes (very understandable when you see her). Her route does do her proud however, adding substance to her seemingly one dimensional self in the common route and fleshing her out as we learn and grow closer to the club's iconic tsundere type.
And as you can expect from such a trope type, Mashiro's route provides some of the best fluffy, romantic moments of the game, but just like Rika, does not delve into much significant plot relevancy. Mashiro is simply charming, making a route that merely hints to later revelations an entertaining and wholesome experience.
1. Call out to her
2. Because I want you to know how to fly
3. Ask her about Misaki's lack of motivation
4. Sure, why not. I'll tag along
5. Tell her to try harder
6. Continue our practice
7. Come up with a special move
8. Tell her
9. Go and talk to her
10. No, I can't do that
11. I want you to
3. Kurashina Asuka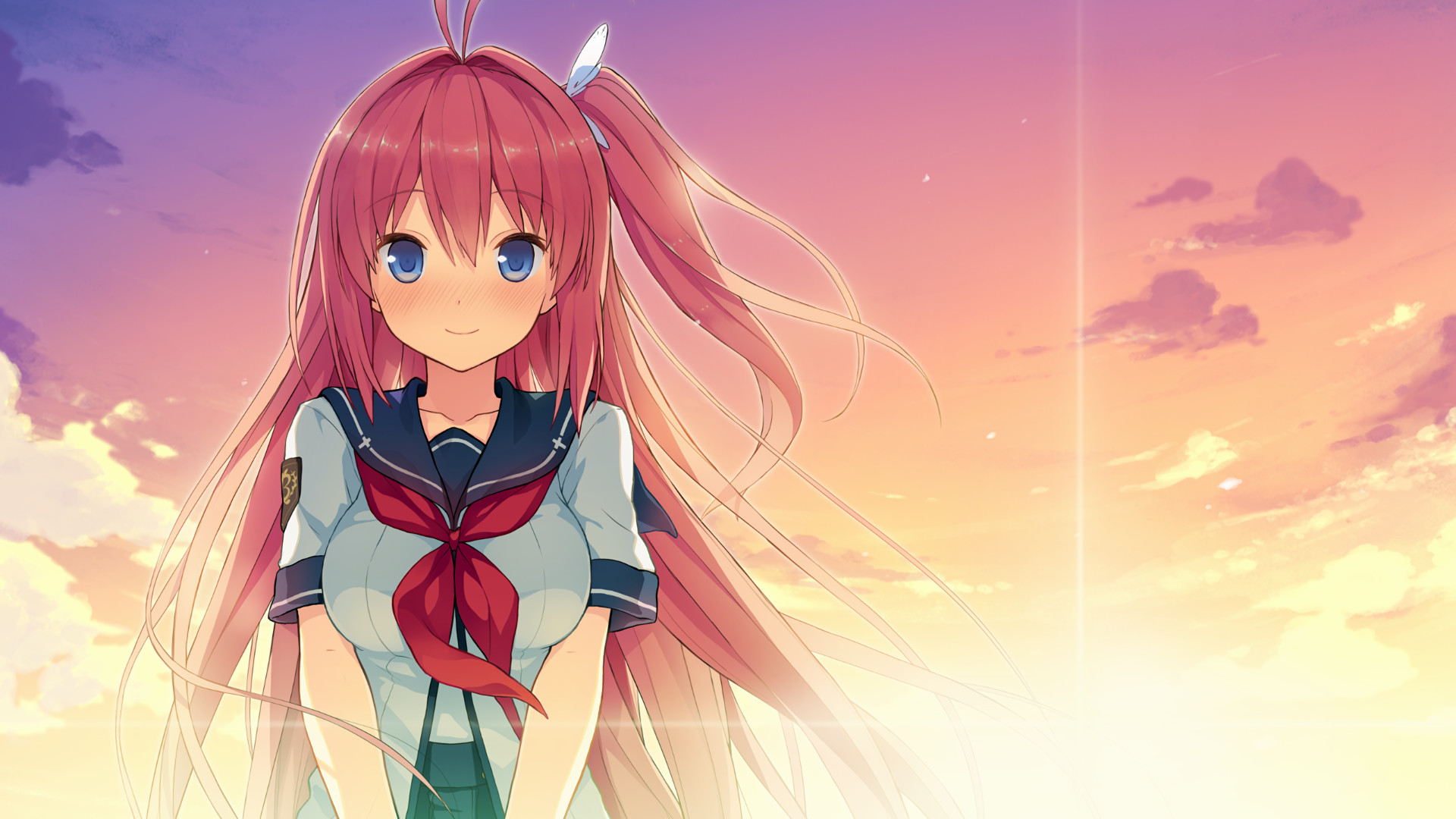 Asuka is the first heroine you lay your eyes on in the game, and she proves to be difficult to not immediately fall head over heels for. No matter how appealing Asuka appears (she is perfection, don't tell me I didn't warn your heart!), she is best left as either the third route or even as the very last one. Depending on the player, the toss up of best girl in Aokana is often between Asuka or Misaki, both providing important plot relevancy, the best moments of the game (the decisive battles in both these routes are unforgettable), and other aspects that make them seem 'canon' (eg. Asuka is the only heroine to need the teaching of Masaya and kick-starts his character arc).
Asuka is a close second for not having the best character development of the lot that ends up having heavier implications and emotions attached. Asuka's journey through improving one's self in commendable and extremely appealing however, and with a personality as hopeful, positive and opportunistic as Asuka's, she is constantly shining throughout each route.
1. Call out to her
2. Because I want you to know how to fly
3. Ask her about Misaki's lack of motivation
4. Sure, why not. I'll tag along.
5. Tell her to try harder.
6. Continue our practice.
7. Come up with a special move.
8. Tell her.
9. Go and talk to her.
10. …Okay
4. Tobisawa Misaki
By every means the definition of saving the best for last, Misaki's route is the very best and should be kept for last to avoid spoilers and disappointment by playing it first to then experience inferior routes. As I stated above, Misaki is often called the 'canon' pairing for Mamiya, with the majority of revelations to be revealed during her route, and being one of the best romantic pairings in any visual novel ever. Described as "a free-spirited girl who floats about as she pleases", Misaki is often called an airhead and plays this up for comical purposes throughout the common route only to be one of the most complex heroines I've ever seen.
Misaki proves to be the whole package, being the best written, most well developed heroine of Aokana while having notable moments of being imperfect as she shows many sides to her, showcasing how human she is that we can all relate to (I would argue being the opposite of what makes Asuka so amazing). Therefor, you'll be doing yourself a disservice in spoiling this experience immediately without the intended build-up.
1. Call out to her
2. Because I want you to know how to fly
3. Ask her about Misaki's lack of motivation
4. Sure, why not. I'll tag along
5. Tell her to try harder
6. Continue our practice
7. Come up with a special move
8. Tell her
9. Go and talk to her
10. No, I can't do that
11. You should do what you want
12. Sorry, I can't
13. Come to practice!
Have you ordered Aokana already for your Switch? Or have you already played the game on Steam? Let us know in the comments below!
Disclosure: Some links in this article may be affiliate links, which means we may earn a small commission if you make a purchase after clicking on them. This is at no additional cost to you and helps support Rice Digital!
Latest posts by Lilia Hellal
(see all)